The service we offer is to source your needs from different suppliers/manufacturers and collect them together in our warehouse. We then consolidate your items according to your preferences and ship them to your desired location in a single shipment.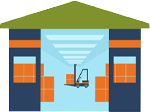 In the event of unmet delivery or longer lead times due to distributor or manufacturer's behalf,  we offer warehousing service to store your products safely  in our warehouse in America for 30 days in order to minimize your logistic and import expenses.

We understand, in every country, custom clearance is a critical point when it comes to import. In case of any missing document, note on an invoice or inappropriate tariff numbers may incur extra cost and time for you.